Debit Cards: see below
Location on VISA, MASTERCARD & DISCOVER credit cards
The three-digit (CVV2) number is printed on the signature panel on the back of Visa, Mastercard & Discover cards.
The verification number is the last 3 digits on the right side of the panel.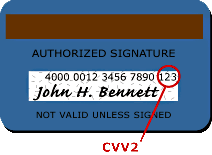 Location on AMERICAN EXPRESS credit cards:
The 4 digit, non-embossed number is printed above your account number on the front of your card.
It may appear to the left or right side of the card, but, is always above the account number.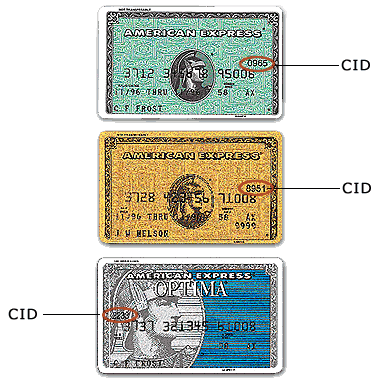 If you are using a DEBIT card or your card has no verification code, enter 0000 in the CV2 field.

The issuing bank contact number & the CVV2/CID authentication codes, are normally submitted when 'swiping' the magnetic stripe on your credit card. Since we do not have that card present during internet transactions, the banks request that we obtain the data manually, t hus allowing for automated verification of the credit card. Since the bank's introduction of these codes in 2000, this fraud prevention tool is rapidly being accepted as proof the card is in your possession at the time of purchase.Thanks for your assistance in preventing credit card fraud.